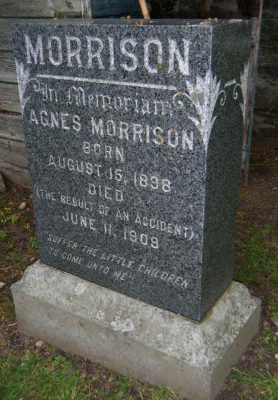 Primary and Secondary Names
Agnes Morrison died 11 June 1909 aged 10
Other Deceased
None
Other Names
None
Erected By
None
Location
None
Inscription
MORRISON
IN MEMORIAM
AGNES MORRISON
BORN
AUGUST 15, 1898
DIED
(THE RESULT OF AN ACCIDENT)
JUNE 11, 1909
"SUFFER THE LITTLE CHILDREN
TO COME UNTO ME"
Gravestone Recording Form
Sketch
Notes
From Dr. Gordon Stark:
The grey granite headstone is a reminder of a little known event and perhaps the greatest tragedy to strike the village. The accident on 11th June 1909 occurred during dinner break when the children were playing outside the school near Tomnacroich. A heavy steam traction engine, named 'Mary Anne', came clanking along the road towing a large waggon loaded with building material for work at Meggernie Castle. Four of the schoolgirls could not resist the temptation to jump onto the drawbar and hitch a ride. In the excited scramble, the girls soon fell off: two were unhurt but two fell under the wheels of the waggon and sustained terrible injuries.
Agnes Morrison was taken to Aberfeldy Cottage Hospital in a critical state. Her severely crushed leg was amputated by Dr MacArthur but she died later in the day – an outcome which was inevitable in the days before blood transfusion.
On 12th June, within 24 hours, the Dundee Courier carried a full account of the tragedy including the fact that the two men in charge of the traction engine were completely unaware of the carnage in their wake until, well up the Glen, they were overtaken by Police Sergeant Campbell who broke the devastating news to them. Agnes's case is documented in the Medical Report of the Cottage Hospital for 1909-10 and, for devotees of 'Horrible Histories', the amputation saw is on display in the Community Campus Museum (along with many other medical and surgical instruments from the old Hospital).
The girl's father, Francis Morrison, a cattleman, is listed in our Communion Roll and the 1901 Census notes that he lived at No.4, Ardtrasgairt with his wife, Margaret, and their five children.
Show map points matching Record