First World War
Sergeant George Adamson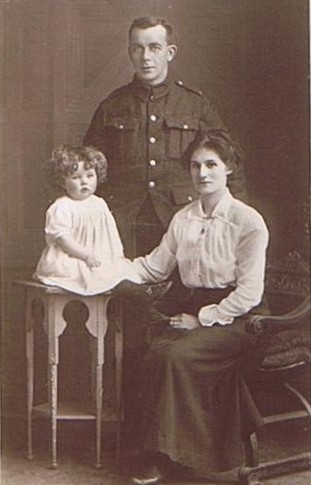 Sergeant George Adamson, (265504), 6th Battalion, Seaforth Highlanders was the son of George and Margaret Adamson nee Stewart who occupied what is now known as McBeth's Cottage in Fortingall, and was born in Fortingall on 9 July 1891. He was employed as a gardener before joining the Seaforth Highlanders in September 2014, soon after the outbreak of war, and served in the Expeditionary Force in France and Flanders from May 1915. George was killed by a sniper's bullet while attacking near Rheims, aged 28, on 22 July 1918. His Commanding Officer wrote that he was one of the best men then holding the rank of sergeant. He married an Englishwoman, Kathleen Mary Ensor from Bedfordshire, on 3 June 1916 and they had two daughters; Margaret who was born in July 1916 and Georgina who was born on 2 February 1919, six months after her father's death. George Adamson is buried in Bois de L'Aulnay British Cemetery near Marfaux, south-west of Rheims, France, Plot VII, Row C, Grave 1. He is also remembered on a memorial at Kempston Barracks in Bedfordshire where he was stationed.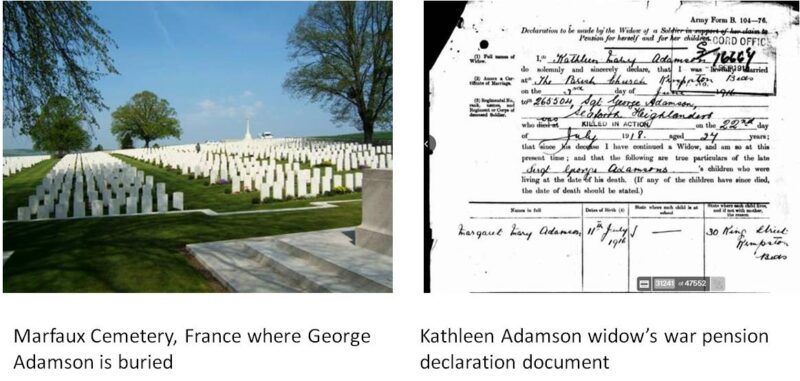 Private David Connell
Private David Connell, (12167), 6th Battalion, King's Own Scottish Borderers was the youngest son of David and Elizabeth Connell of Holmes Farm, Kilmarnock. He was born in Wigtown and enlisted in Dumfries in August 1914. He was killed in action on 25 September 1915, aged 19. His father, who was employed on the farm on Glen Lyon Estate, Fortingall at that time, received a letter regarding David, stating that he had been wounded and "was told to go back, but he refused. The next time he saw him he was lying dead, so he must have been hit a second time." His grave is unknown but he is commemorated on the Loos Memorial, Pas de Calais, France, Panel 53 to 56.
Private John McDonald
Private John McDonald, (512205), 2nd/14th Battalion [London Scottish], London Regiment came from Styx, Kenmore, the son of Mrs McDonald of Camserney. Prior to enlisting he was employed as a gamekeeper in Hampshire, England. He fought in France and Flanders and died of wounds on 2 August 1918. John is buried in Cabaret-Rouge British Cemetery, Souchet, Pas de Calais, France, Plot XIX, Row B, Grave 17.
Private Angus McPherson
Private Angus McPherson, (268357), was born in Kirkton, Fortingall in July, 1891, probably the fifth of eight children of John McPherson, a farm hand, and Catherine Brown whose family had lived at Ardtrasgairt at the foot of Glen Lyon for many years. John McPherson came from a hamlet called Smirisay, on the West Highland peninsula of Moidart. (So Angus was almost certainly not related to the two McPherson brothers, Donald and Robert, on this website.) Angus enlisted into The Scottish Horse in Dunkeld, later serving in the 4/5th Battalion, The Black Watch (Royal Highlanders) and the 6th (Perthshire) Battalion, The Black Watch (Royal Highlanders). The Scottish Horse saw action in the Balkans. He was killed in action serving with the 6th Battalion on 23 April 1917, aged 25, when his battalion was taking part in a major offensive in the Arras sector in which 9 officers were killed or wounded and 196 Other Ranks were killed, wounded or reported missing. He is commemorated at the Athies Communal Memorial.
Private Donald McPherson
Private Donald McPherson, (CH/13741), was born on 26th July 1883 in Fortingall, the eldest of the seven children of Donald McPherson, a ploughman, of Meigle in Airlie parish, Perthshire and his wife Annie McPherson (nee Dewar) from Killin. Donald Snr was later employed as the grieve at Duneaves House, Fortingall. They married at Laggan Ferry near Fortingall on 20 July 1883.  By the age of sixteen Donald Jnr was employed a ploughman at Burnmouth Farm, Newtyle, Angus. When war was declared he enlisted in The Royal Marine Light Infantry on an armoured cruiser, HMS Cressy. On 22 September 1914 torpedoes fired from a German submarine off the coast of The Netherlands resulted in the sinking of HMS Cressy and two other British cruisers with the loss of almost 1500 men, among them Donald McPherson, aged 31. Donald is commemorated on panel 7 on the Chatham Naval Memorial in Kent.
Lance Corporal Robert McPherson
Lance Corporal Robert McPherson, (266090), was born in Airlie, Forfarshire in 1895, the sixth child of Donald and Annie McPherson, and younger brother of Private Donald McPherson. Robert enlisted in Perth and served with the 6th (Perthshire) Battalion, The Black Watch (Royal Highlanders). He was killed aged 23 on 21 March 1918 during the German Spring Offensive, later known as the Third Battle of the Somme. He has no known grave and is commemorated at the Arras Memorial, Pas de Calais, France, Bay 6.
Major George Anthony Murray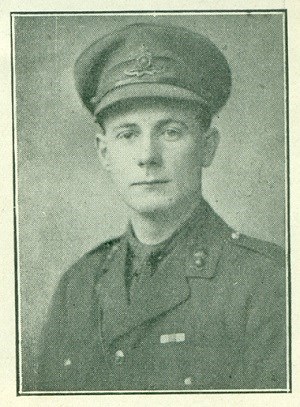 Major George Anthony Murray, (750840), 'D'Battery, 47th Brigade, Royal Field Artillery was born on 25 September 1893, one of five children of Dr Charles and Mrs Caroline Molteno Murray of Cape Town, South Africa. His grandfather was Sir John Charles Molteno, the first prime minister of Cape Colony. George Murray married his cousin Margaret Molteno just a few weeks before his death. He fell on 4 April 1918 at Villiers-Bretonneux in the defence of Amiens whilst in command of his battery and died, aged 24, of the injuries he sustained. He was posthumously awarded the Military Cross [MC]. He was buried in the parish churchyard of Aubigny near Corbie in France and later reinterred in Aubigny British Cemetery, Somme, France, Plot/Row/Section E, Grave 6.
Private Thomas Simpson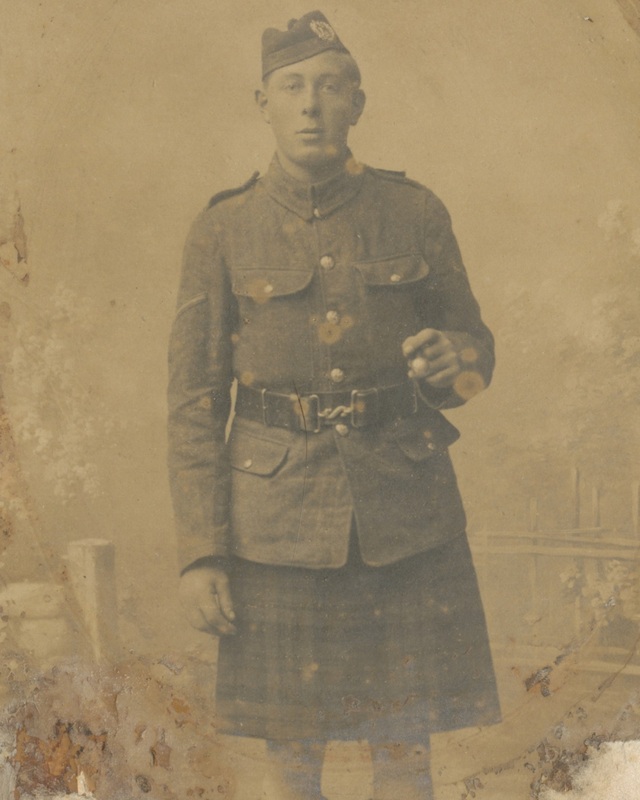 Private Thomas Simpson, (55207), 2nd Battalion, Highland Light Infantry was born in Fortingall in 1899, one of eight children of the Fortingall schoolmaster James Simpson and his wife Mary. He fought in France and Flanders and died of wounds, aged 19, on 25 August 1918. [His brother Ian of the King's Own Royal Lancaster Regiment was severely wounded in action in July 1916 but recovered.] Thomas is buried in St Hilaire Cemetery Extension, Frevent, Pas de Calais, France, Ploy/Row/Section L, grave 2. The inscription on his gravestone reads: 'Proudly and Fondly Remembered by Parents, Sister and Brothers.' His name also appears on the gravestone of his parents James and Mary in Fortingall churchyard.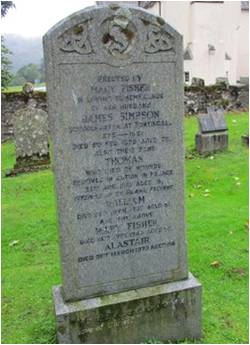 Show the Map