Second World War
Aircraftsman Kenneth William Bennett
Kenneth William Bennett Aircraftman 1st Class 652800, 201 Squadron, Royal Air Force was the adopted son of James and Jane Bennett of Aberfeldy. He was a crew member on a Sunderland II aircraft which crashed 200 yards after take-off at Mount Batten RAF Seaplane Station at Plymouth, Devon on 21 December 1941, killing 11 of its 15 crew including Kenneth, who was 18. The plane was setting off on a transit flight to Gibraltar to join 202 Squadron. He has no known grave but is commemorated on Runnymede Memorial, Surrey, Panel 57.
Gunner John Carmichael
John Carmichael, Gunner 1681331, 270 battery, 91 Heavy AA Regiment was a son ofGilbert Carmichael and Mary Carmichael [nee McKechnie]. John was born at Milton of Roro in Glenlyon in 1909 and prior to joining the army he was employed at Meggernie Estate in Glenlyon. He was killed at Habrough, Lincolnshire on 31 October 1941, while employed as a dispatch rider with the Royal Artillery. Presumably this was the result of an accident when on his motorcycle. He is buried, together with his parents and sister, in the churchyard at Dull, Perthshire. John is also commemorated on the war memorial at Innerwick in Glen Lyon.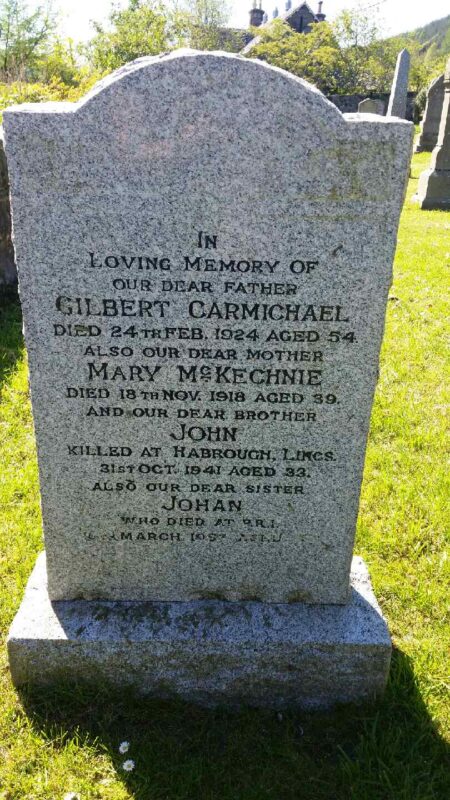 Private Ian McCallum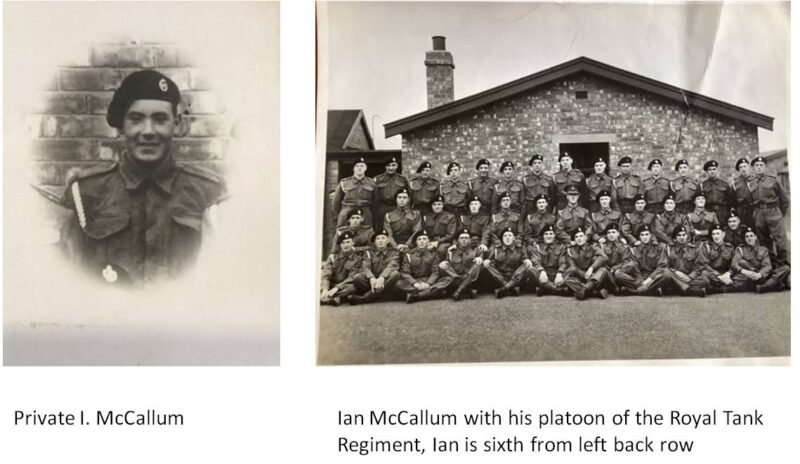 Private Ian McCallum (7957564), 6th Battalion, Gordon Highlanders was born at Wester Blairish farm near Garth, Perthshire on 16 February 1920, the son of Archibald and Florence McCallum. His father and grandfather farmed at Wester Blairish and when Ian was aged about twelve his father took up the tenancy of Inchgarth Farm above Litigan at Keltneyburn. Ian began his service with the Royal Tank Regiment before transferring to the 6th Battalion, Gordon Highlanders. The 6th Battalion left Scotland in February 1943 and went first to Algiers before moving to Tunisia in March. In April that year they were ordered to undertake a counter attack to relieve and rescue the Irish Guards who had suffered heavy casualties and were pinned down on the lower slopes of Djebel Bou Aoukaz, a steep ridge which overlooked the whole area including the Medjez el Bab to Tunis road. It was referred to as 'the Bou' by the Allied forces. The Gordon Highlanders had to cross open ground to reach their objective and came under heavy fire, suffering a high number of casualties. They succeeded in beating back the German attack, but Ian was killed on the first day of the attack, 30 April 1943, aged 23. He is buried alongside a number of Irish Guards in the war cemetery at Borj El Amri, Tunisia [formerly known as Massicault], Plot V, Row H, Grave 20.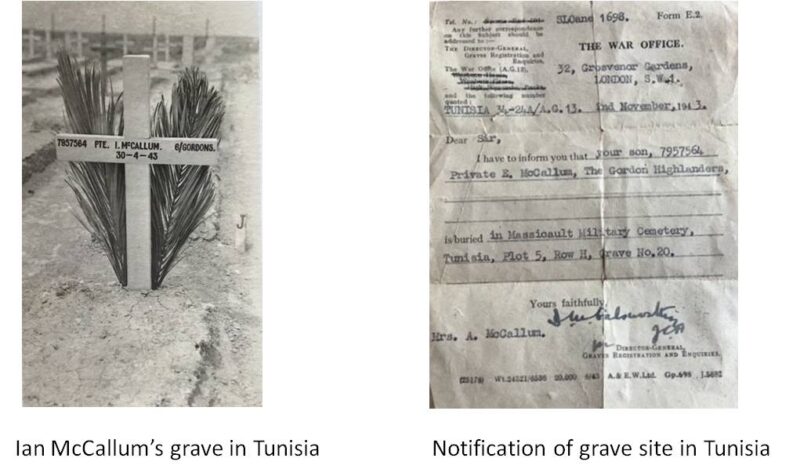 His gravestone is inscribed, 'In Loving Memory of our Dear Son Ian. He died that we might live.' He is also commemorated on the grave of his parents in Fortingall churchyard. Note Ian's name is spelled incorrectly on the War Memorial.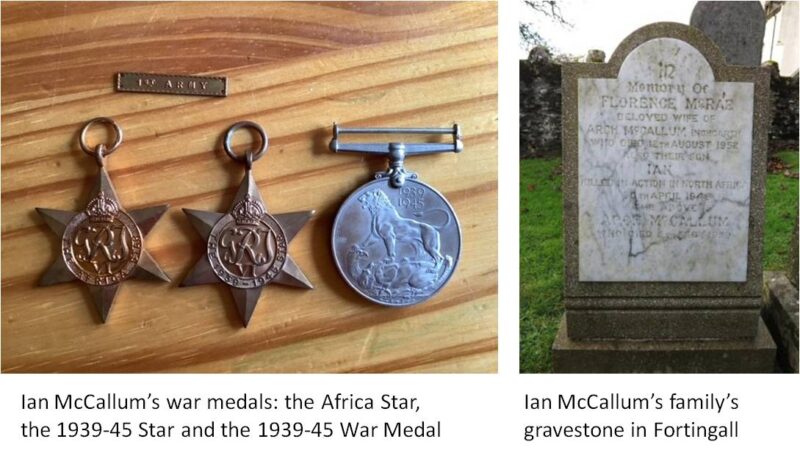 Flight Sergeant Donald Ian Fisher
Flight Sergeant Donald Ian Fisher (1265865), Royal Air Force was born in May 1909, in Fortingall, one of the ten children of John and Catherine Fisher of Culdaremore House in Fortingall. He was married to Alice Florence Smith and had one son, Ian. Donald was one of the crew of a Wellington bomber based at RAF Wing, Buckinghamshire. On their first mission on the night of 13/14 September 1942 they joined a total of 332 Allied aircraft which attacked Bremen in Germany, effecting significant damage on the city's housing and industry including the Focke-Wulf aircraft factory. 21 Allied aircraft were shot down, including 15 Wellingtons, with a loss of 87 aircrew killed and 28 taken prisoner by the Germans. Four of the five crew on Donald Fisher's bomber died, including himself. The one survivor, rear gunner Sgt. John Cartlan, baled out and was taken prisoner. Sgt. Cartlan, an American citizen serving with the Canadian Air Force, later wrote an account of his aircraft suffering several hits before catching fire and falling into shallow water in the Zuyder Zee. Donald was aged 33 when he was killed, and he was buried in the New Eastern War Cemetery in Amsterdam, Netherlands. The epitaph on his gravestone reads:' Beloved husband of Alice and father of Ian. To live in our hearts is not to die.'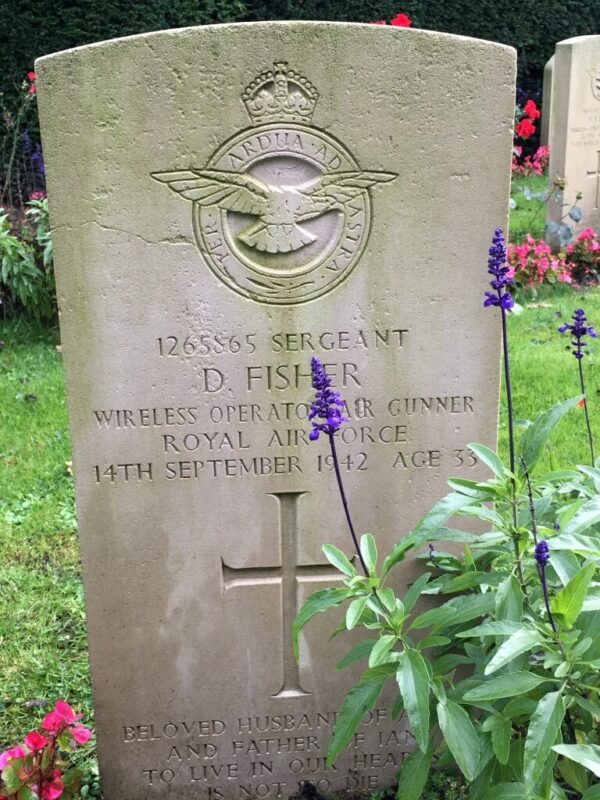 Major Frederick Donald Mirrielees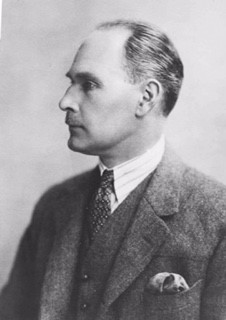 Major Frederick Donald Mirrielees, local Commander, 4th Perthshire Battalion, Home Guard was born in London on 4 September 1881, the son of Sir Frederick James Mirrielees and Lady Mirrielees. In 1910 he married an American citizen, Mary Cavendish Pangbourne from Baltimore in Maryland, and later acquired Garth House as his residence in Scotland. On 17 August 1940, aged 58, he was at Garth House demonstrating a hand grenade to the members of the Home Guard when he dropped it after removing the pin. He immediately threw himself on top of it, but despite this heroic and selfless action one other man was killed besides himself: Donald McNiven, aged 38, who lived in Kenmore and was the captain of The Queen of the Lake, one of the paddle steamers that ran from Kenmore to Killin on Loch Tay. This tragic accident happened either in the dining room of Garth House or, more probably, in the yard behind the building. The incident altered the law of death duties as the estate of anyone killed while on active service was exempt, and the Mirrielees family successfully argued that this should include anyone killed while on active Home Guard duty.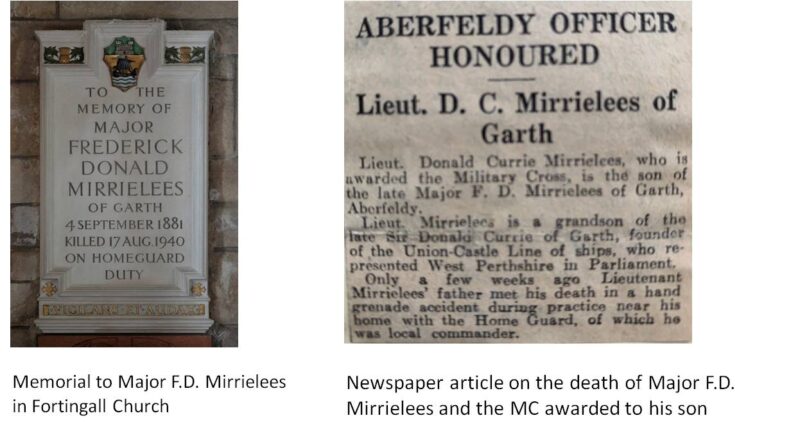 Major Donald Currie Mirrielees MC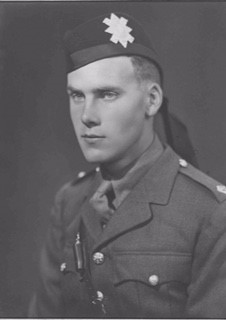 Major Donald Currie Mirrielees MC, (67799), 5th Battalion Black Watch (Royal Highland Regiment) was the son of Frederick Donald and Mary Mirrielees. Donald was born in Dorking, Surrey on 25th August 1915, a great-grandson of shipping millionaire Sir Donald Currie who acquired the estates of Garth, Chesthill and Glen Lyon in the 1880s. Commissioned in 1937, he served in Palestine (1937-1938) with the 2nd Battalion The Black Watch. He was later deployed as part of the 51st Highland Division to France, serving as a Platoon Commander in the 4th Battalion. During the fighting withdrawal undertaken by the Division he was awarded the Military Cross. On the 5th June 1940 he carried out a dangerous reconnaissance of an enemy-held village and then on the 6th June he remained with his rear section until almost surrounded by the enemy, showing great coolness to his men by remaining, and successfully extracted his men. The 4th Battalion The Black Watch was withdrawn from France but 11,000 men of the 51st Highland Division were forced to surrender to General Rommel at St Valery-en-Caux on 12th June 1940.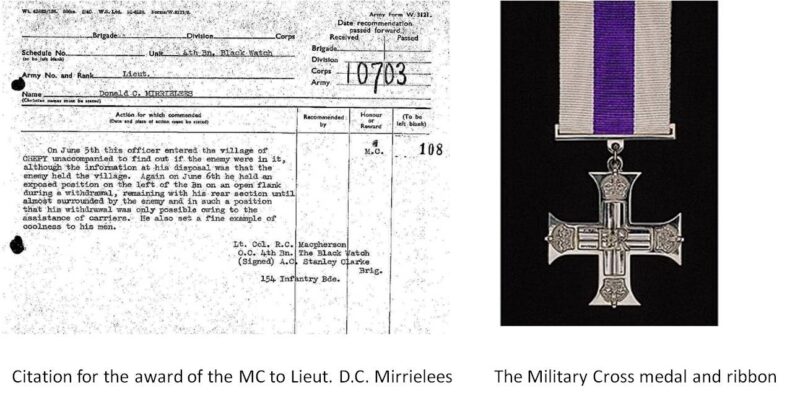 After the invasion of Normandy he served in the 1st Battalion The Tyneside Scottish [Black Watch] until it was disbanded due to very heavy casualties. He was then posted to the 5th Battalion, The Black Watch to command B Company, arriving on the 25th August 1944. The battalion was involved in an attack on Mauny and he was killed by shellfire, aged 29, on 28th August 1944. He is buried in St. Desir War Cemetery, Calvados, France, Plot 1, Row C, Grave 9. The inscription on his headstone reads: 'Beloved son beloved brother, Gallant and true in all things'.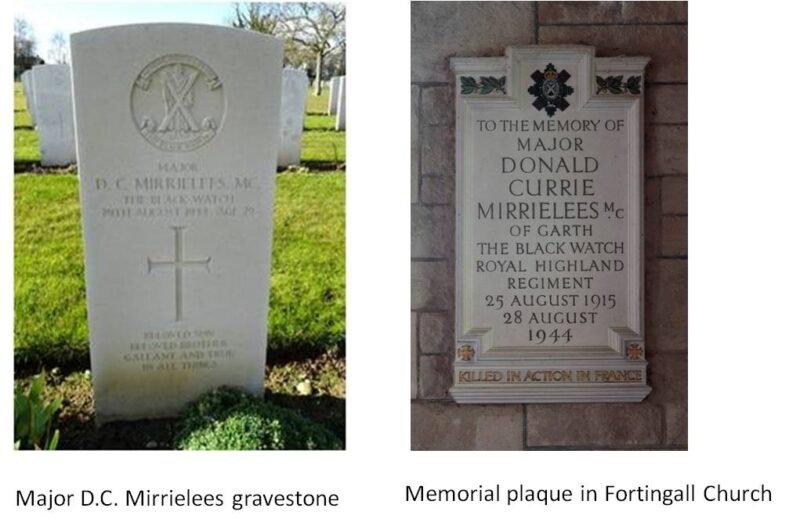 Major Donald Ian Molteno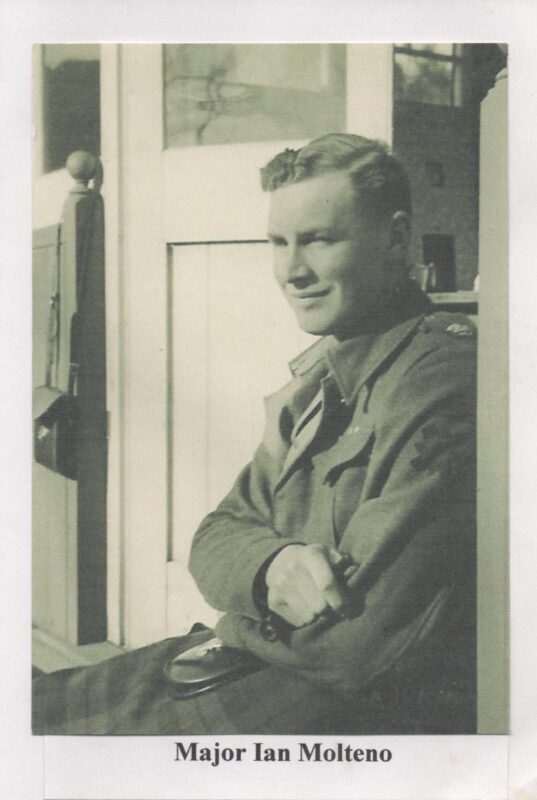 Major Donald Ian Molteno, (88003), 1st Battalion, The Black Watch (Royal Highland Regiment) was born in Hampstead, London in 1918, the only son of Donald Jervis Molteno and Islay Kathleen Molteno of Glen Lyon House, Fortingall, and a great-grandson of Sir Donald Currie. He was severely wounded in 1943 during the fighting in North Africa and invalided home. He returned to the 1st Battalion as a Company Commander during the Reichswald Offensive, aka Operation Veritable. This was a turning point towards the end of World War 2 when Allied troops finally succeeded in crossing the Rhine on 23 March 1945, with a huge loss of 23 000 men. Ian was killed by a bursting shell on 16 February 1945 only a few days after he rejoined the battalion. Aged 27, he left a widow, Margot, and two baby daughters. Ian Molteno is buried in Reichswald Forest Commonwealth War Grave Cemetery, Nordheim-Westfalen, Germany, Plot 60, Row B, Grave 13. The epitaph on his gravestone reads: 'His heart in Scotland but his valour here'.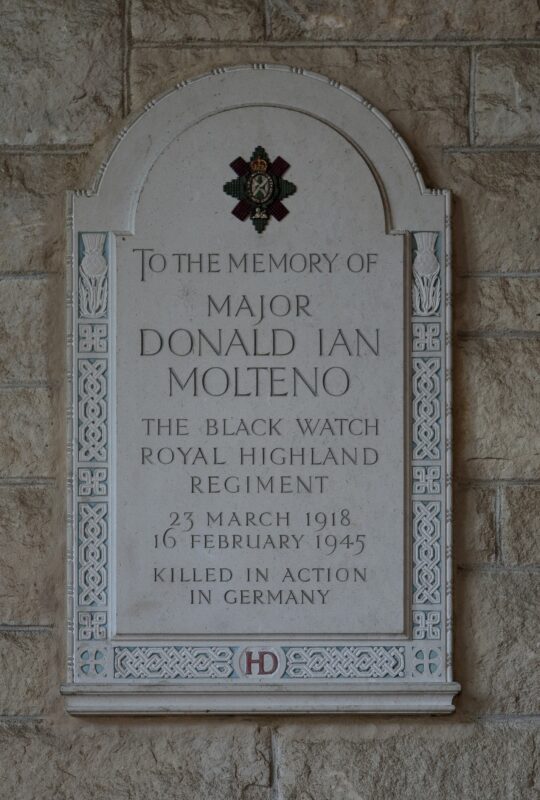 Show the Map