Fortingall Roots – a Local History Group
'Fortingall Roots' brings together people interested in the history of the Fortingall area, including representatives of the Breadalbane Heritage Society and the James McLaren Society. The group meets periodically to review progress and consider future initiatives.
Work started in 2012 to raise funds for the initial project based on Fortingall and its rich history, with excavation of a site south of the current Fortingall Church. The aim was to increase understanding of the role of Fortingall in the development of Christianity in the area.
Subsequently the group concentrated on surveying and conserving the ancient stones in Fortingall Churchyard.
Members of Fortingall Roots were involved in the excavations in the Glebe Field led by Dr. O'Grady in 2010-11. More recently Fortingall Roots have begun collaboration with the University of Glasgow investigating the field west of the village that contains several features of probable archaeological interest.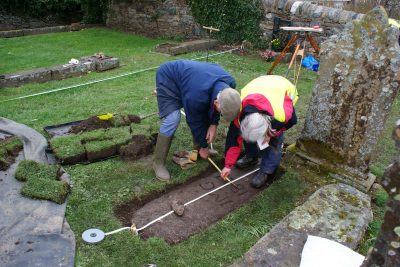 Show the Map